Stephen F, everyday luxury, NYC, innovative designs, fashion icon, super model, PSG.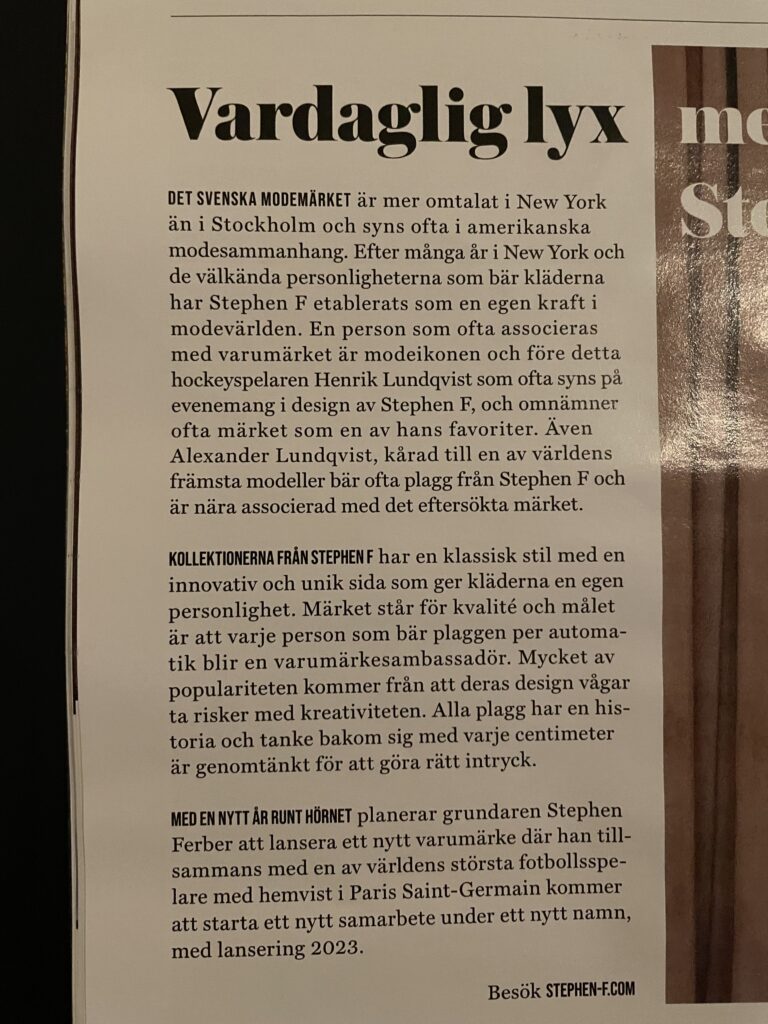 Here is the article in English:
Everyday luxury with Stephen F

The Swedish fashion brand is more talked about in New York than in Stockholm and is often seen in American fashion contexts.
After many years in New York and the well-known personalities who wear the clothes, Stephen F has established himself as a force of his own in the fashion world.
One person often associated with the brand is fashion icon and former hockey player Henrik Lundqvist who is often seen at events wearing designs by Stephen F, and often mentions the brand as one of his favourites. Even Alexander Lundqvist, named one of the world's top models, often wears garments from Stephen F and is closely associated with the sought-after brand.
The collections from Stephen F have a classic style with an innovative and unique side that gives the clothes their own personality. The brand stands for quality and the goal is that every person who wears the clothes automatically becomes a brand ambassador.
Much of the popularity comes from their designs daring to take risks with creativity. All garments have a story and thought behind them, with every centimeter carefully thought out to make the right impression.
With a new year around the corner, founder Stephen Ferber plans to launch a new brand where he, together with one of the world's greatest soccer players based in Paris Saint-Germain, will start a new collaboration under a new name, launching in 2023.