Stephen F's owner and creative director, Stephen Ferber was interviewed by the world famous Wingman Magazine. 

Below the picture you can read the magazine's introduction of Stephen Ferber followed by the full interview.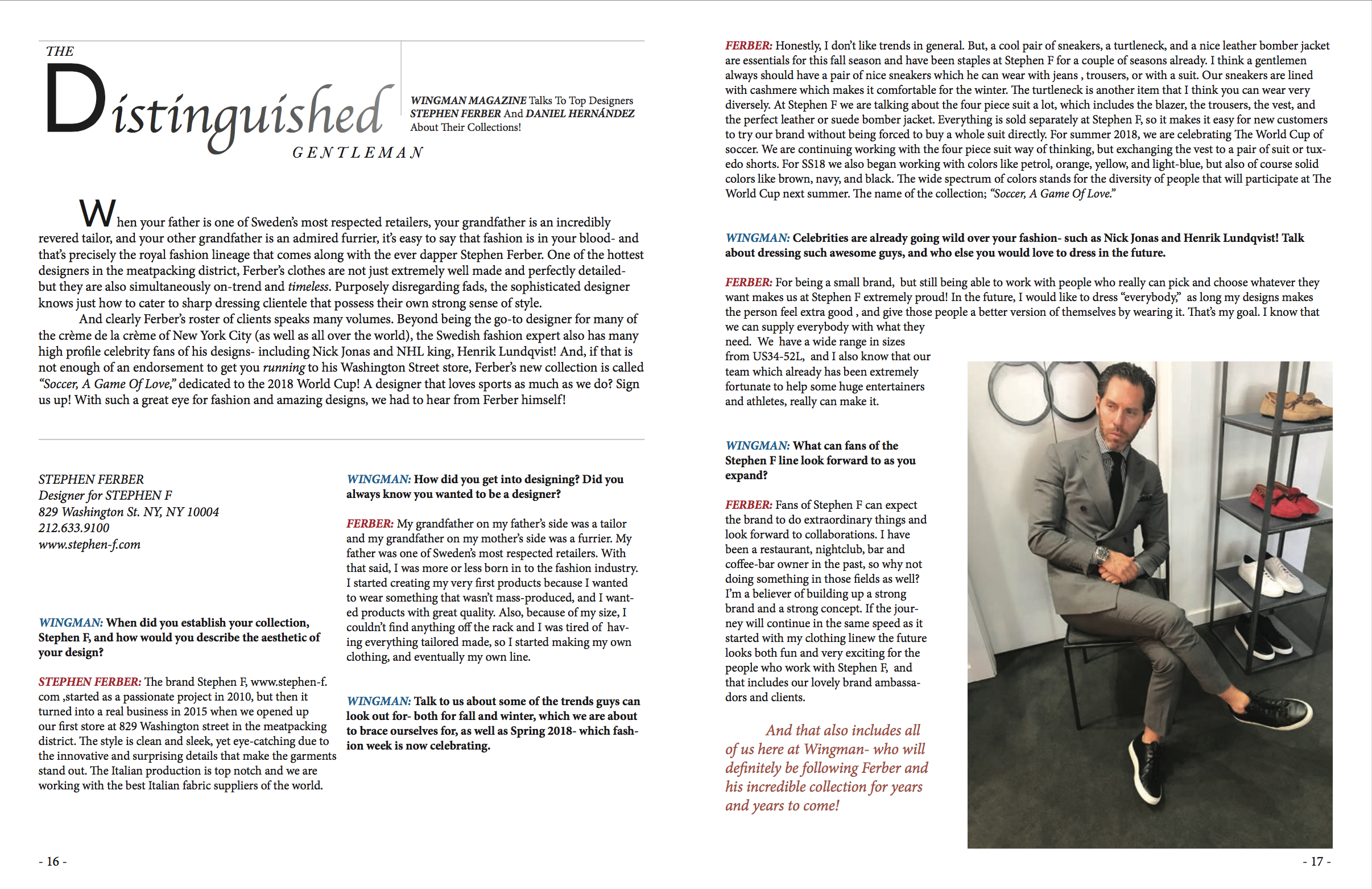 " When your father is one of Sweden's most respected retailers, your grandfather is an incredibly revered tailor, and your other grandfather is an admired furrier, it's easy to say that fashion is in your blood- and that's precisely the royal fashion lineage that comes along with the ever dapper Stephen Ferber. One of the hottest designers in the meatpacking district, Ferber's clothes are not just extremely well made and perfectly detailed- but they are also simultaneously on-trend and timeless. Purposely disregarding fads, the sophisticated designer knows just how to cater to sharp dressing clientele that possess their own strong sense of style.
And clearly Ferber's roster of clients speaks many volumes. Beyond being the go-to designer for many of the crème de la crème of New York City (as well as all over the world), the Swedish fashion expert also has many high pro le celebrity fans of his designs- including Nick Jonas and NHL king, Henrik Lundqvist! And, if that is not enough of an endorsement to get you running to his Washington Street store, Ferber's new collection is called "Soccer, A Game Of Love," dedicated to the 2018 World Cup! A designer that loves sports as much as we do? Sign us up! With such a great eye for fashion and amazing designs, we had to hear from Ferber himself!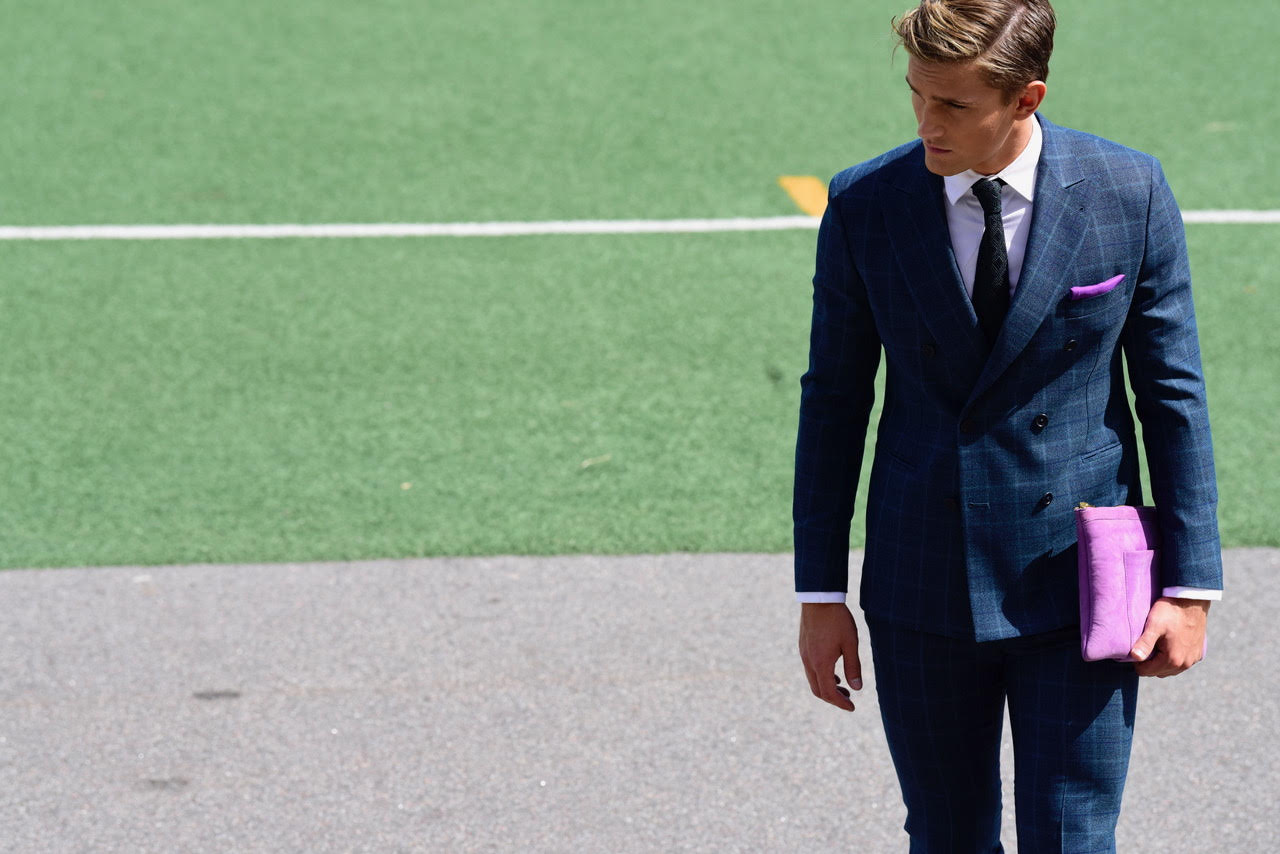 WINGMAN: When did you establish your collection, Stephen F, and how would you describe the aesthetic of your design?
STEPHEN FERBER: Thee brand Stephen F, started as a passionate project in 2010, but then it turned into a real business in 2015 when we opened up our first store at 829 Washington Street in the meatpacking district. The style is clean and sleek, yet eye-catching due to the innovative and surprising details that make the garments stand out. The Italian production is top notch and we are working with the best Italian fabric suppliers of the world.
WINGMAN: How did you get into designing? Did you always know you wanted to be a designer?
FERBER: My grandfather on my father's side was a tailor and my grandfather on my mother's side was a furrier. My father was one of Sweden's most respected retailers. With that said, I was more or less born in to the fashion industry. I started creating my very first products because I wanted to wear something that wasn't mass-produced, and I wanted products with great quality. Also, because of my size, I couldn't find anything off the rack and I was tired of having everything tailored made, so I started making my own clothing, and eventually my own line.
WINGMAN: Talk to us about some of the trends guys can look out for both for fall and winter, which we are about to brace ourselves for, as well as Spring 2018 which fashion week is now celebrating.
FERBER: Honestly, I don't like trends in general. But, a cool pair of sneakers, a turtleneck, and a nice leather bomber jacket are essentials for this fall season and have been staples at Stephen F for a couple of seasons already. I think a gentlemen always should have a pair of nice sneakers which he can wear with jeans, trousers, or with a suit. Our sneakers are lined with cashmere which makes it comfortable for the winter. The turtleneck is another item that I think you can wear very diversely. At Stephen F we are talking about the four piece suit a lot, which includes the blazer, the trousers, the vest, and the perfect leather or suede bomber jacket. Everything is sold separately at Stephen F, so it makes it easy for new customers to try our brand without being forced to buy a whole suit directly. For summer 2018, we are celebrating the World Cup of soccer. We are continuing working with the four piece suit way of thinking, but exchanging the vest to a pair of suit or tuxedo shorts. For SS18 we also began working with colors like petrol, orange, yellow, and light-blue, but also of course solid colors like brown, navy, and black. The wide spectrum of colors stands for the diversity of people that will participate at the World Cup next summer. The name of the collection; "Soccer, A Game Of Love."
WINGMAN: Celebrities are already going wild over your fashion- such as Nick Jonas and Henrik Lundqvist! Talk about dressing such awesome guys, and who else you would love to dress in the future.
FERBER: For being a small brand, but still being able to work with people who really can pick and choose whatever they want makes us at Stephen F extremely proud! In the future, I would like to dress "everybody," as long as my designs makes the person feel extra good, and give those people a better version of themselves by wearing it. That's my goal. I know that we can supply everybody with what they need. We have a wide range in sizes from US34-52L, and I also know that our team which already has been extremely fortunate to help some huge entertainers and athletes, really can make it.
WINGMAN: What can fans of the Stephen F line look forward to as you expand?
FERBER: Fans of Stephen F can expect the brand to do extraordinary things and look forward to collaborations. I have been a restaurant, nightclub, bar and coffee-bar owner in the past, so why not doing something in those fields as well? I'm a believer of building up a strong brand and a strong concept. If the journey will continue in the same speed as it started with my clothing line the future looks both fun and very exciting for the people who work with Stephen F, and that includes our lovely brand ambassadors and clients.
And that also includes all of us here at Wingman- who will definitely be following Ferber and his incredible collection for years and years to come! " – Wingman Magazine